When your pet is sick or injured, we'll help them get better
An ill pet can't tell us where it hurts, but most owners know when they are suffering. It may be as obvious as a cut, tender spot, or tummy troubles, or simply an awareness that something just isn't right.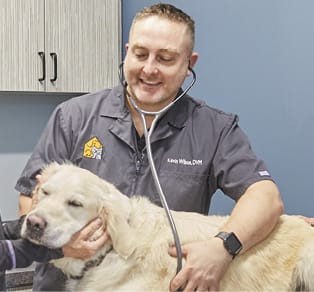 Comprehensive Exams
Even a seemingly minor change in behavior or appearance might be a symptom of a serious health issue requiring treatment. Although you might think your pet's injury or illness is minor and seek information online, we encourage you to be proactive in scheduling an appointment. An immediate and complete exam can help us accurately diagnose and effectively treat your pet's condition before it worsens.
Diagnostic Testing
We provide a full range of diagnostic tests to determine the cause of your pet's illness and to monitor how they respond to treatment. By studying the chemical composition of a sample of your pet's blood or other bodily fluids, we can evaluate how well your pet's organs function and identify specific diseases.
Diagnostic Radiography
We take X-rays to help detect fractures, tumors, injuries, infections, or deformities. While they might not give us enough information to determine the exact cause of your pet's problem, they can help us identify the next steps to diagnosis.
Diagnostic Ultrasound
An ultrasound scan shows us the size and shape of many of your pet's organs, helping us identify any abnormalities.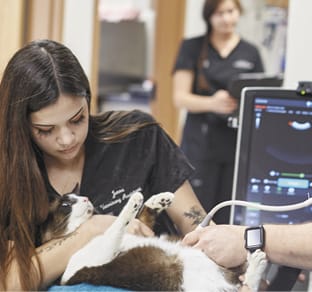 Lab Services
Whether we perform tests in-house or through our partnership with a freestanding laboratory, we obtain and review results quickly, accurately, and with a high level of confidence.
"We have the resources and experience to diagnose and treat a wide range of medical conditions. When necessary, we collaborate with a team of specialists, ensuring seamless care for the most complex diseases."
- Dr. Kevin Wilson -
Internal Medicine Services
Once we diagnose your pet's condition, we offer specialized care to develop a treatment plan. Our goal will be full recovery when possible or ongoing management for optimal quality of life. Depending upon your pet's situation, we may refer you to a specialist with whom we will coordinate care. 
Cardiology
Some pets are vulnerable to diseases that affect their heart or blood vessels like canine and feline congestive heart failure, hypertension, cardiomyopathy, and valve disorders. We use sophisticated diagnostic tests to identify these and evaluate their severity. Many of the treatment modalities, including medications used by humans, may be prescribed for your pet.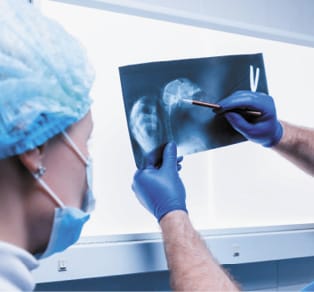 Neurology
We treat pets suffering from neurological conditions like tremors, seizures, brain and spine disorders, unusual behavior, abnormal gait, and balance issues. Depending upon the type and severity of their condition, we may refer you to a specialist to confirm our diagnosis through more extensive testing and together we'll develop a treatment plan.
Endocrinology
Dogs and cats can be diagnosed with endocrine and hormone problems like diabetes, hypothyroidism, hyperthyroidism, Addison's disease, and Cushing's disease. Early detection can make these potentially life-threatening conditions much more manageable.
Respiratory
Lung diseases and conditions that affect dogs include canine distemper virus, COPD, kennel cough, pneumonia, tumors, colds, and flu. Feline upper respiratory infection is a common illness. We vaccinate against some of these conditions and provide advice on prevention. Once a diagnosis is confirmed, we may collaborate with a specialist on the treatment plan.
Gastroenterology
Pets can experience sudden gastrointestinal issues or suffer from more chronic problems. Our diagnostic testing will help us determine the source from among several, including parasites, foreign bodies, ulcers, food allergies, pancreas, bile duct, or gall bladder issues, IBC, or colitis.
Oncology
We are optimistic about the ever-increasing options available to treat pets diagnosed with cancer. We work with you and our experienced veterinary oncologist partners to develop a customized treatment plan. The goal may be a possible cure or a palliative approach to achieve the best quality of life.
Urology
Common problems of the urinary system and kidneys include urinary tract infection, urinary crystals, bladder stones, feline urological syndrome (FUS), urinary tract obstruction, incontinence, kidney disease and failure, and cancer. Depending on the diagnosis, treatment options may include nutritional modification, medical therapy, surgical intervention, or dialysis.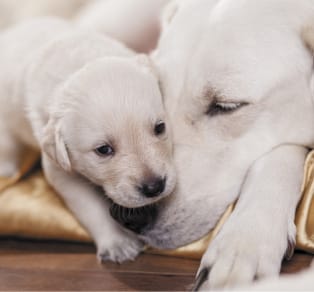 Reproductive Care
We support the safe, effective, and permanent spaying and neutering of pets to avoid the deaths of millions of unwanted and abandoned animals each year. Exceptions include responsible breeding programs and those for which surgical sterilization is not recommended. We will help you determine the best time to schedule this surgery for your pet.
"Don't hesitate to call us if you think your pet is sick or injured. Delaying diagnosis and treatment can have dangerous consequences. Advice from an online source is no substitute for hands-on veterinary care!"
- Dr. Kevin Wilson -