A compassionate team of veterinary professionals
The 5-Points Animal Hospital team is a carefully selected group of passionate animal lovers, all deeply committed to our patients' health, safety, and comfort. We have very high standards for the people we choose to help us care for your pet. We've built a close-knit family that supports each other's personal and career growth. We help each other maintain a healthy work-life balance by nurturing a community of kindness, respect, and gratitude.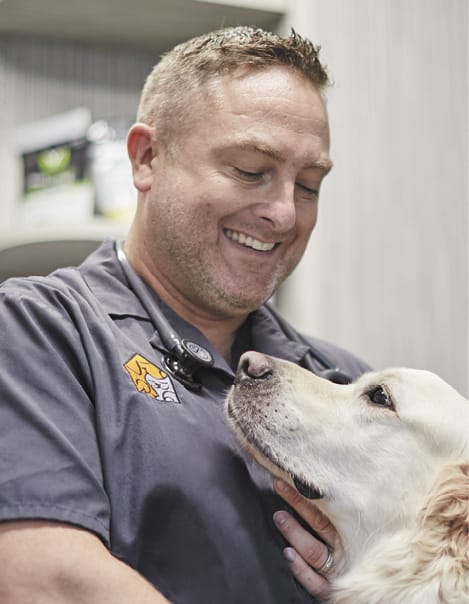 Dr. Kevin Wilson | Co-Founder
Dr. Kevin first thought about becoming a veterinarian in middle school when he fell in love with his first dog, Brandy. He worked for a veterinary hospital in high school, and after experiencing the deep bonds of affection between pets and their owners, he found his future. Dr. Kevin graduated from Oregon State University College of Veterinary Medicine. He spent the next 15 years as a partner and medical director at one of the largest veterinary practices in the Seattle region. Dr. Kevin and Scott moved to North Carolina over five years ago. Since then, Dr. Kevin has cared for Raleigh area pets at two practices, most recently as Medical Director of Quail Corners Animal Hospital. He and Scott opened 5-Points Animal Hospital to bring their experience, vision, and energy to a holistic pet-and-owner- centered veterinary practice in Fuquay-Varina.
"I encourage owners to learn all they can about their pet's health so they can play an active role in maintaining their well-being. Preventive care is crucial to achieving the very best quality of life for your pet at every age, especially as they become older."
- Dr. Kevin Wilson -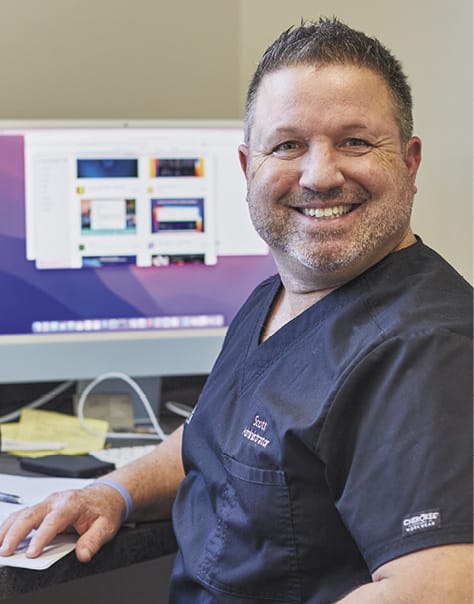 Scott Wilson | Co-Founder Hospital Administrator
Caring for animals has been a passion of Scott's throughout his life. He supported Dr. Kevin when he built the hospital system in Washington State and while his veterinary care contributed to the success of practices in North Carolina. Scott's extensive business background includes managing multiple medical offices in several states, including finance, marketing, team development, and training. For the past 11 years, he has been a stay-at-home dad, caring for their two daughters, two dogs, and two cats.
"We don't want to be the like the places we've been. We believe that focusing on owner education, integrity, and relationship-building while nurturing a happy work environment will inspire loyalty and trust from all who become part of the 5-Points family."
- Scott Wilson -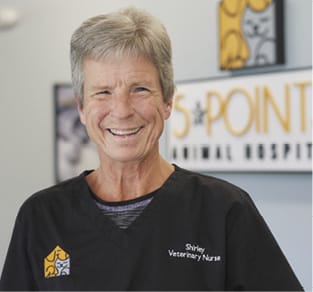 Shirley S.
Veterinary Nurse
Shirley was certified as an Animal Health Technician and earned a Bachelor of Science in Pre-Med. For 12 years of her multi-faceted career, she served as a Veterinary Technician. This position allowed her to devote herself to her love for animals and medicine. Shirley and Dr. Kevin worked together previously, and their mutual respect inspired her to join the team.
"As a new practice with a positive culture, we will make long-lasting, meaningful connections with pets and their owners. We are a relationship-based practice rather than a transactional based one."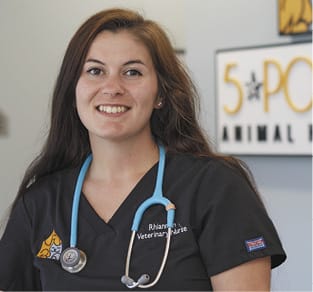 Rhiannon S.
Veterinary Nurse
Rhiannon is certified as a Veterinary Assistant and is pursuing an Associate degree in Veterinary Technology. She knew from a young age she wanted a career that provided hands-on involvement with animals. Rhiannon enjoys learning about and using the most advanced technology to provide the highest quality care and treating each pet as if they were her own. She and Dr. Kevin previously worked together, and she was delighted to join his new team.
"This team shares a determination to provide the highest quality medicine to our patients and an amazing all- around experience for them and their owners."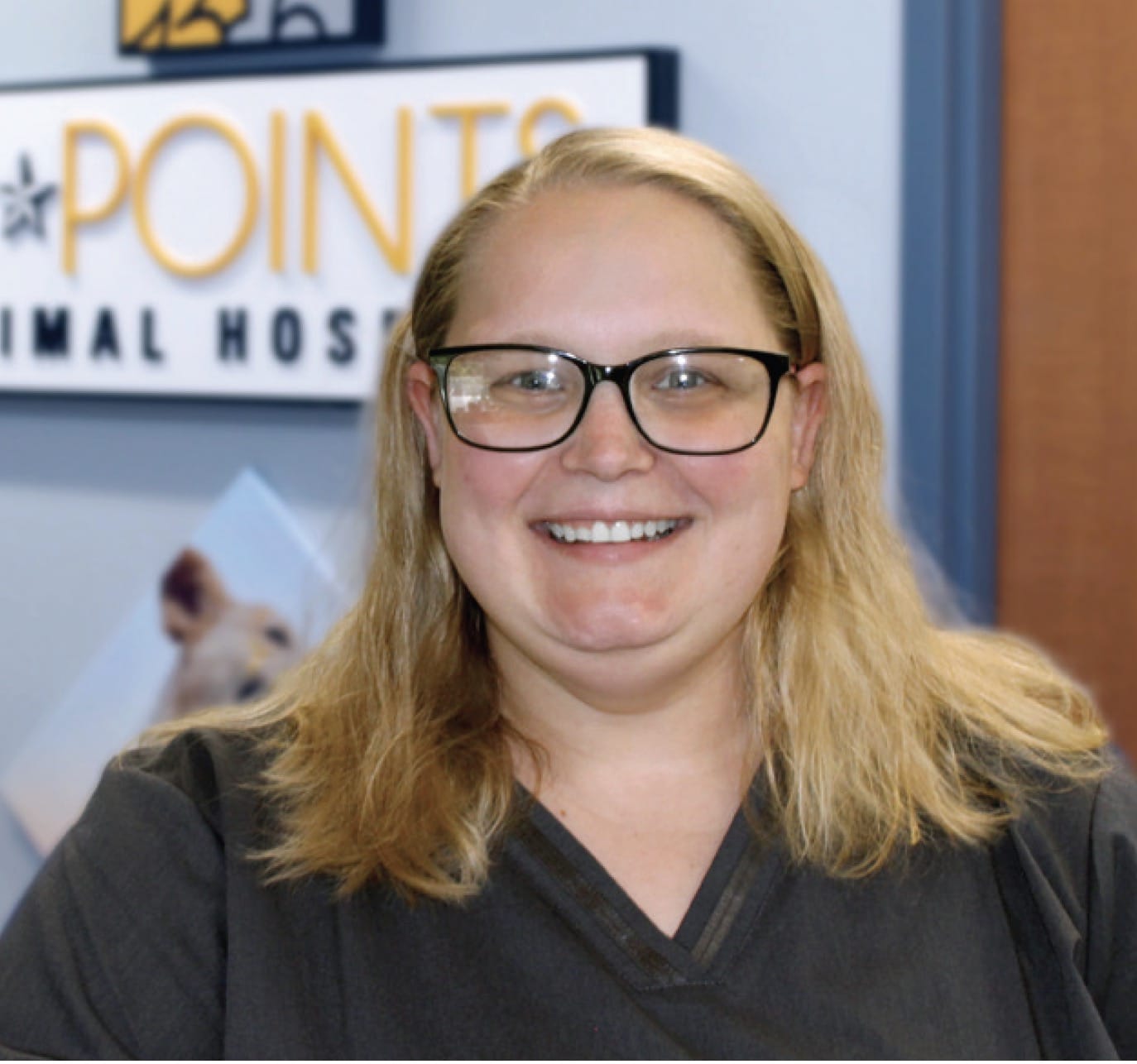 Ashley C.
Registered Veterinary Technician
Ashley was awarded her Veterinary Medical Technology degree by Central Carolina Community College, and has trained in general practice, emergency medicine, and surgery. She is currently working toward her Bachelor of Applied Science degree at St. Petersburg College. Her experience includes emergency medicine, the ICU, assisting with surgical procedures and anesthesia monitoring. She is proud to be part of a team led by a doctor who follows the gold standard of veterinary medicine.
"I noticed 5-Points because of their glowing reviews on Google. Now I'm here, and I understand why our pet owners are so enthusiastic about Dr. Kevin and the team and want to tell others about their exceptional experiences!"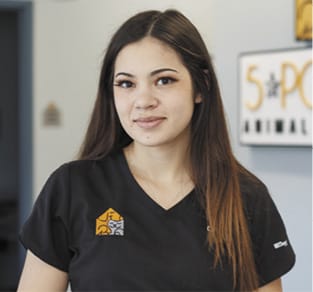 Jenna C.
Veterinary Nursing Assistant
Jenna is working towards an Associate in Science degree, which she plans to follow with a Bachelor's degree in Animal Science. She has three years of experience caring for patients in animal hospitals and the past two as a Veterinary Assistant. She loves working with animals and learning about medicine. Helping provide kind and compassionate surgical and dental care are among her favorite areas of veterinary science.
"I'm excited to be a part of this new practice that's big enough to offer the most advanced therapies and small enough that each pet, owner, and team member will receive the personalized attention they deserve."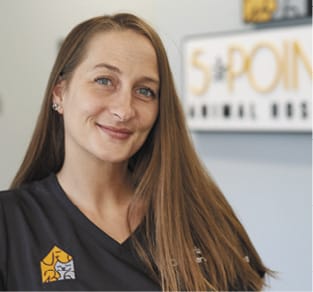 Karla S.
Client Service Representative
Karla joins our team with a history of providing excellent client service. She has worked with Dr. Kevin before and is thrilled to be on a team where exceptional patient care and owner education are always top priorities. Karla considers herself a dedicated advocate for all pets. She enjoys meeting new owners and earning their trust and friendship.
"I make sure that pet owners leave our building with all their questions answered and confident that they can provide the best home care for their pet."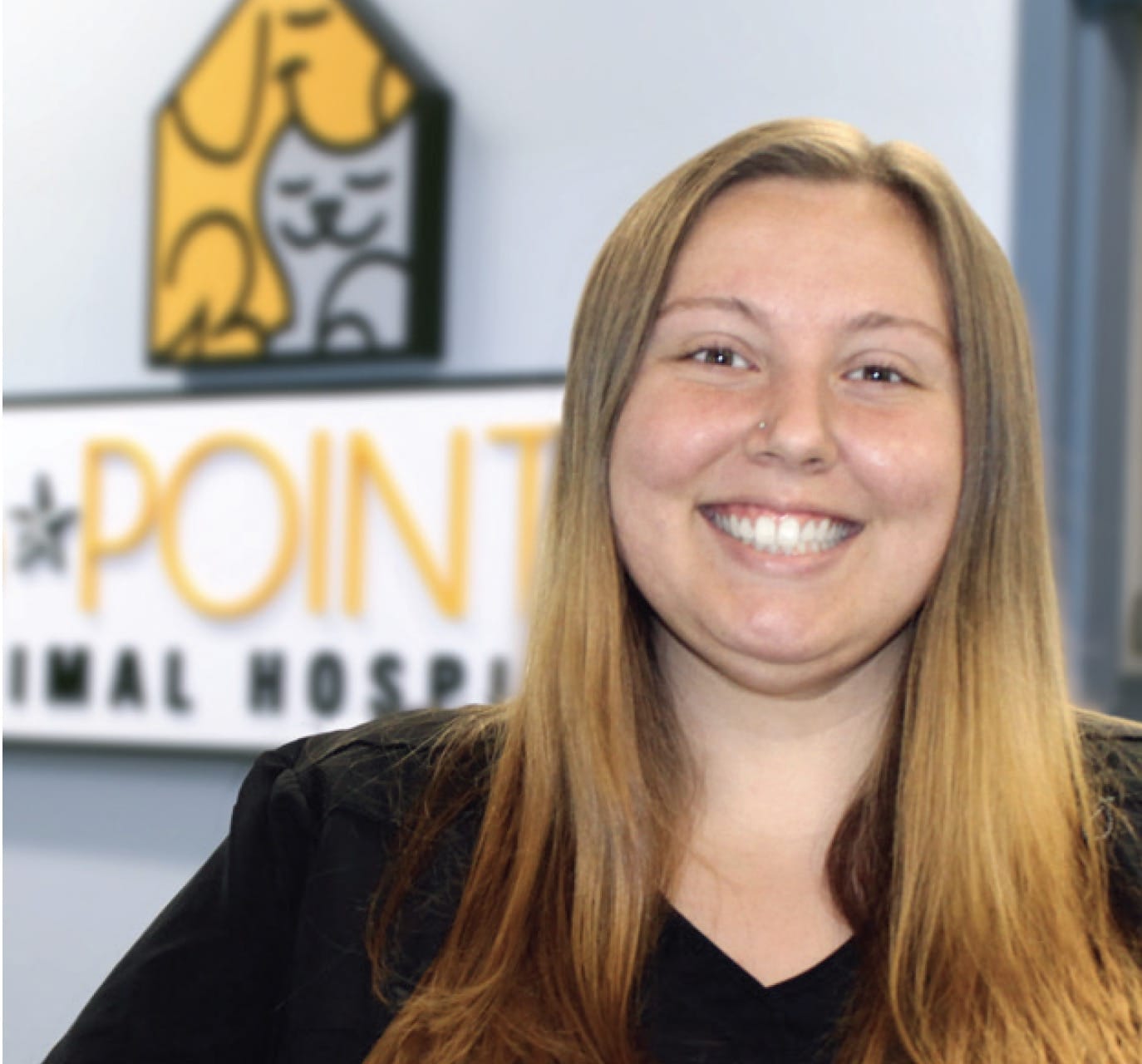 Becca D.
Customer Service Representative
Becca brings five years of experience as a Client Service Representative. She is passionate about animals of all shapes and sizes, including livestock and reptiles. Her favorite parts of her job are building relationships with pets and their owners, as well as continuously learning about veterinary medicine. She encourages owners to utilize the extra time that Dr. Kevin provides during their consultations to ask as many questions as they wish about their pets and his recommendations for their care.
"We truly have your pet's best interest in mind. We practice fear-free care and will always make decisions about their treatment that suit their individual level of comfort."